Discover the expertise of our trusted dental implant doctors at Stubbs Dental Implant Center. Experience exceptional care for All-on-4® implants, dental implants, and oral surgery from our skilled and experienced team.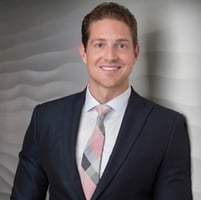 January 10th, 2021 Dr. Daniel Bostock was killed in a head on collision in Tooele County when another car driving the wrong way hit his vehicle. Stubbs Dental is heart broken to have lost such an amazing friend and colleague. We will always honor his memory. Below you will find words our staff has shared about their time with Dr. Bostock as well as his biography. We will miss you dearly.
Dr. Daniel Bostock was a board-certified Oral and Maxillofacial Surgeon. He was born in Medford, Oregon, and grew up in the beautiful Cache Valley, Utah. He attended Utah State University, where he pursued undergraduate major degrees in Biology and Psychology and minor degrees in Business and Portuguese. He then attended the University of California, San Francisco, where he received his Doctorate in Dental Surgery.
After dental school, he completed a General Practice Residency at the prestigious Houston Texas Medical Center, where he gained additional training in facial trauma, maxillofacial prosthodontics, implants, and general anesthesia. He then pursued an additional 4 years of specialization in Oral and Maxillofacial Surgery through Howard University Hospital, including surgical experience at Washington, DC VA, Washington Hospital Center, Winchester Hospital, and Anne Arundel Hospital.
"Dan was incredible to work with! I regularly marveled at the quality of his work. He was meticulous yet so efficient. Even more impressive was his kindness and compassion toward others. One of my favorite things about "Dr B" was his passion for learning. As knowledgeable as he was, he never missed an opportunity to learn from people and didn't think himself above others. I particularly loved that he enjoyed teaching as well. So often I went to him with questions about procedures, anatomy, instruction, and support. He taught freely and joyed in elevating those whom he surrounded himself with. A truly great man, gifted in so many ways. Thank you for giving so much of yourself, we are all better because of you." - Dr. Kuchenmeister


"Dr. Bostock truly was one of a kind. He was one of the most talented oral surgeons I have ever met. He was always willing to teach others but also wanted to learn as well. He would go the extra mile for his patients. Anyone who has had the honor of meeting him would agree that once you met him you were a better person because of the life lessons he would teach you. We lost not only a co-worker but a true friend, He was family to us. He will be missed!"


"Daniel was a great person to work with! His genuine kindness and willingness to teach was amazing. His smile and presence will be truly missed by many. He was an all around neat person with a kind heart."

"I am humbled to have worked with such a talented and kind man. He always had an amazing attitude, and was so polite. Truly a great guy."