Zygomatic Dental Implants
If you want dental implants but lack the jawbone density to support them, we may have the solution for you.

Zygomatic dental implants are secured in the zygoma (cheekbone) to support an upper arch restoration like a denture.

Stubbs Dental Implant Center can determine if you're a candidate for zygomatic implants and place them with precision.
A Closer Look at Zygomatic Implants
Unlike
traditional implants
, which are placed in the lower or upper jaw, zygomatic dental implants are secured in the zygoma, or cheekbone. After tooth loss, the jawbone lacks stimulation from the natural tooth roots, leading to atrophy. Oftentimes, dental implants can't be placed without bone grafting because of low jawbone density. The zygomatic bone doesn't atrophy with tooth loss, making it a more stable location for implant placement after jaw deterioration.
Ideally, our dentists want to support your
All-on-X
prosthetic with four implants. The two implants in the back are long enough to be anchored in the zygomatic arch. If you have enough bone density in the front of your mouth, we can place two traditional implants to provide more support for your All-on-X prosthetic.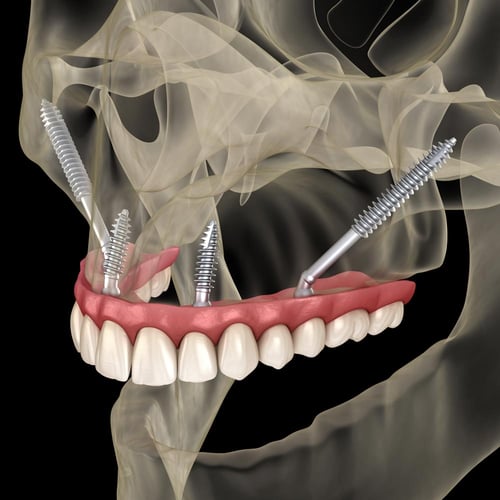 The Unique Benefits of Zygomatic Implants
No Need for Preparatory Treatment
If you have bone loss in your jaw, you may have to undergo a bone graft or sinus lift before receiving traditional implants. With zygomatic implants, our dentists can use your zygomatic bones to support your implants, forgoing the need for these preparatory procedures.


Reduced Treatment Time
Bone grafts and sinus lifts can require healing periods of six months or longer. Because you don't need preparatory treatments to qualify for zygomatic implants, you can benefit from shorter treatment times.
Immediately Restored Function
A temporary prosthetic will be attached to the implants the day after your zygomatic implant procedure, giving you a full set of functional teeth even while you heal. In as little as 12 weeks, you can return to one of our offices so your dentist can attach your permanent prosthetic.


High Success Rates
Like normal dental implants, zygomatic implants have extremely high success rates. The success rate over 12 years is estimated to be 96.7%, making them a safe and long-lasting tooth replacement option.


Dr. Kirk Johnson Explains Zygomatic Implants
Dr. Kirk Johnson from our Lehi office appears on Fresh Living to discuss how zygomatic implants work and how they benefit patients.