Dental Implant Cost Guide
While patients are eager to restore their smiles, they also have questions about how much dental implants cost.

As a leading provider of implants in Utah, Stubbs Dental Implant Center is able to ease concerns by keeping implant costs affordable.

Learn how the dentists at Stubbs Dental Implant Center pair affordability with exceptional care to lower the cost of quality implants.
How Much Do Dental Implants Cost?
We wish there was a simple answer to this. But each implant treatment plan, consisting of at least one post, abutment, and crown, is custom-designed to fit the unique structure of your mouth. That's how our dentists ensure your restoration is comfortable and long-lasting. Our hands-on customization also means treatment costs will vary depending on the complexity of your case and your unique needs. Here are some of the things that can affect the price of dental implant treatment:
Preparatory Procedures
Some people need surgical or non-surgical procedures to prepare for dental implants. These extra steps can include treatment for gum disease, which can lead to implant failure, or bone grafting, sinus lifts, and tooth extractions.


Number of Implants
The number of implants you need will affect your total cost. If you are missing just one tooth, all you will need is a single implant. However, if you need imlant supported dentures, such as the All-on-X, you will need four or more implants to securely hold the denture in place.
Size of Your Restoration
Smaller restorations, such as a single crown for one missing tooth, cost less than what you would pay for full-mouth dental implants, like the All-on-X, to replace an entire arch of teeth. In addition, the material you choose will affect how much it costs.
Type of Sedation
Sedation is another cost variable. Nitrous oxide and oral sedation are milder forms of sedation and less expensive than the deep sleep offered by intravenous (IV) sedation. Complex procedures may require IV sedation.


We Won't Let the Cost of Dental Implants Stand in Your Way
By working with area credit unions and healthcare financing companies, we make it possible to fit dentistry treatments into nearly any budget. Financing your dental implants lowers your up-front costs and makes monthly payments more manageable. Our knowledgeable finance team is available to answer your questions and help determine a payment plan that will fit into your budget.
Flexible Financing
We accept third-party financing available through Proceed, LendingPoint, and other healthcare financing companies.
Utah Credit Unions
We're proud to also offer flexible financing from local credit unions in Utah. Ask our team for a recommendation in your community.
Members Benefit Program
The Stubbs Dental Implant Center Membership Benefits Program is designed to provide affordability and greater access to quality dental care.
"They gave us the best deal!"
"Took my mother here for an All-on-X dental implant procedure. I can't thank everyone enough for her experience pre and post-op. Everyone from the assistants during the consultation, to the financial expert who helped us figure out the best financial plan to head down. To see the look on her face after how many years she had to suffer not being able to eat efficiently, or cover her face for any type of picture, brought tears to my eyes. The people here are truly amazing and sincerely show how much they enjoy improving the quality of life for others."
"Friendly, knowledgeable kind staff that have attention to detail and truly care about the clientele. I would very highly recommend Stubbs Dental to anyone needing dental care. Prices are very reasonable and the work done is very thorough. They are the very best in the dental field!"


"I wanted to help my mom get dental implants - All on 4. My regular dentist told me that he can do it, but there weren't any photos or "proof" of past patients whom he helped. I also went to another implant specialist clinic which charged me $50 right off the bat to take x-rays of my mom's teeth. My mom almost gave up saying that this is too much hassle and too much money. Then we went to Stubbs Dental and everybody was cheerful, and excited to help! The healthcare investment coordinator gave us the best deal for the All-on-4. She really searched all over for the best financial options for me and gave me a great deal on the implants so that I could afford to help my mom. This would NOT have happened if we didn't see Stubbs Dental!"
Stubbs Dental Excels at Affordable Dental Implants
Dental implants are dentistry's most secure way to restore missing teeth but we know people also need to fit dental treatments into their budget.

Stubbs Dental Implant Center is able to lower implant costs, without compromising quality, by performing every stage of the dental implant process in our office.

This control over nearly every step allows us to make dental implants affordable to as many people as possible. Our attention to cost control and detail has allowed our Utah practices to become a leading provider of dental implants in the region.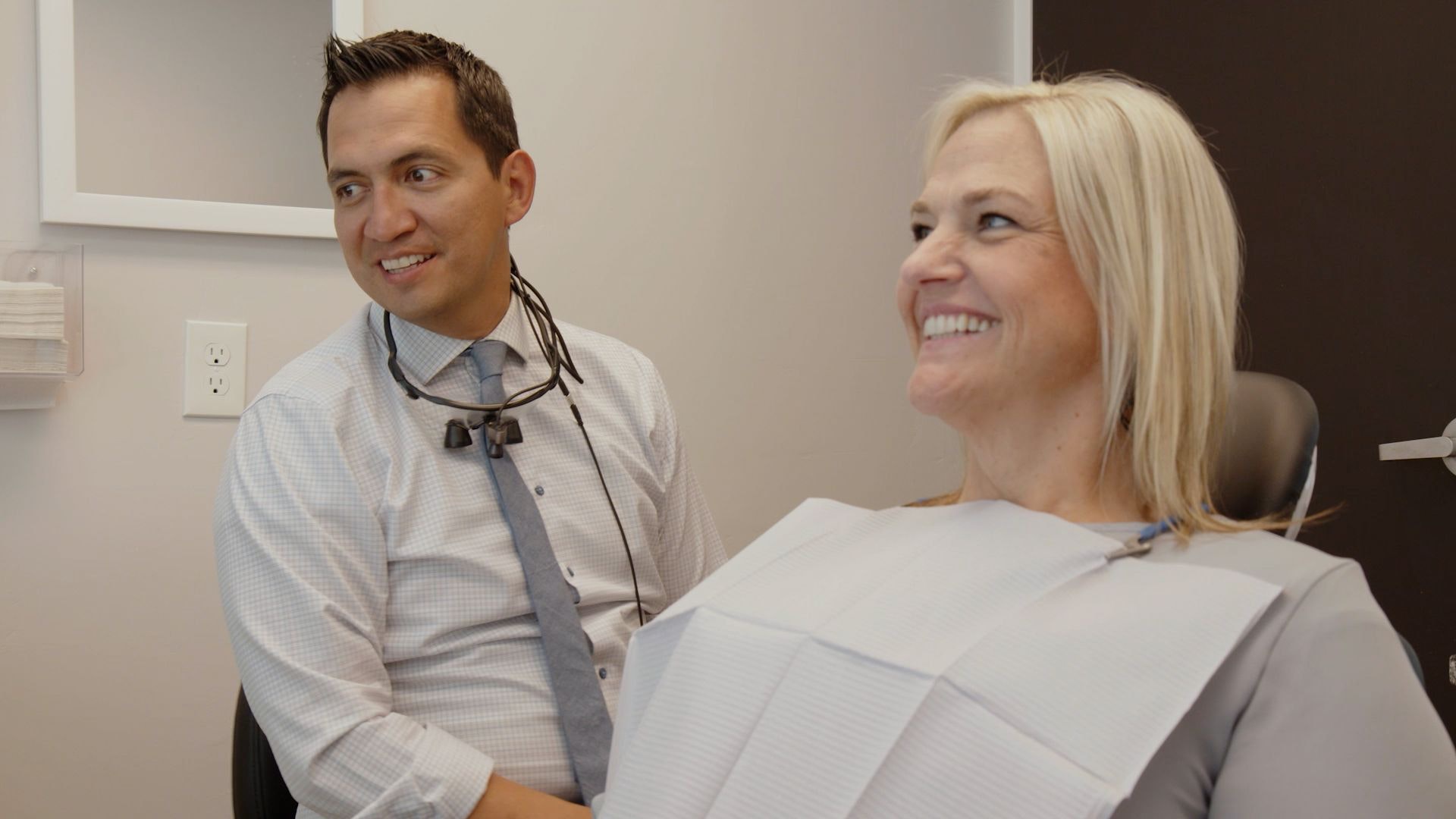 Dental Implants Changed Zach's Life
Zach came into Stubbs Dental to address his teeth, which were constantly breaking and making him feel self-conscious. He was not comfortable smiling in public and it was difficult to eat. Now he no longer struggles when eating his favorite foods and walks with his head held high and a bright smile on his face.
"Once I had my permanents put in they looked great, they felt great, and I felt like a completely different person." — Zach