Tooth loss can make you feel self-conscious and impact dental function, inhibiting your ability to speak, eat, and smile with confidence.

At Stubbs Dental Implant Center, we can restore your smile by replacing missing teeth with restorations anchored by dental implants.

Learn why patients come to our implant centers in Bountiful, Layton, Murray, and Lehi, UT.
Download our dental implant pricing and information guide
Fill out the form and we will email you the guide along with a $350 savings offer!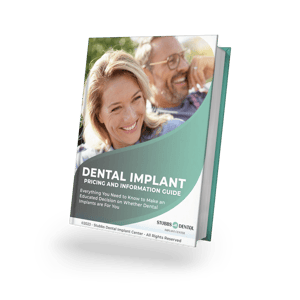 THE GUIDE WILL SHOW YOU
Dental Implant Options
Average Pricing
Factors That Affect Eligibility
And More...
Dental implants are widely considered the optimal method for replacing a single missing tooth, a row of missing teeth, or a complete dental arch. Our dentists in Bountiful, Layton, Murray, and Lehi can develop a custom treatment plan just for you. The titanium or ceramic posts are the next best thing to natural tooth roots and offer a number of lasting benefits, including:
Long-Lasting Support
The long-term success rates of dental implants are impressive. While an implant restoration may wear out over time, titanium or ceramic implant posts can last a lifetime.
Incredibly Lifelike
Dental implants connect crowns, bridges, and dentures directly to the jawbone, achieving incredibly natural-looking results. They also help restorations feel more stable.
Improved Appearance
Dental implants can fill the gaps left by missing teeth. Implants also help prevent jawbone recession and can help you maintain fuller and more youthful facial features.
Patients Love the Results of Their Dental Implants
At Stubbs Dental Implant Center, we specialize in creating custom smiles that can improve your oral health, overall wellness, and self-confidence. Our experienced dentists offer both single dental implant and full-mouth dental implant options to meet your individual needs. Trust us to provide you with the highest level of dental care and achieve the beautiful, healthy smile you deserve.
Stubbs Dental is amazing, I'm so happy!
I am very happy and pleased of the work I have had. I had some teeth removed and implants put in my bottom jaw. Highly recommend their office for anyone who's looking for beautiful teeth to walk out with sameday.
Seriously life-changing!
I am SO grateful for Stubbs Dental. Phenomenal work and service. I was really nervous about getting dental implants after over a decade of insecurity and never smiling. Seriously life-changing. I couldn't feel more empowered today. The staff is knowledgeable, sweet, and understanding.
The most friendly and professional staff!
Stubbs Dental is, in my opinion, the premier dental implant business in Utah. They are not only a recognized business for delivering state-of-the-art dental implants but also has the most friendly professional staff in all of its offices. I recommend it to all who are looking for quality care and positive patient-staff communication.
Absolutely wonderful experience!
My experience with Stubbs Dental was absolutely wonderful! I recently got two dental implants and was so happy with the care I received. Dr. Shane Phillips and Madison took care of me. Getting implant surgery was a big decision for me but the knowledgeable and experienced team at Stubbs eased all my concerns. Thank you for my fantastic new smile!
How Do Dental Implants Work?
A dental implant functions as an artificial tooth root. After being surgically placed into the jawbone, the implant fuses with the structure of the jawbone.

Dental implants are made up of three parts: the implant post that is anchored into the jawbone, an abutment that sticks out from the jawbone and gum tissue, and a dental prosthesis (crown, bridge, or denture).
In the animation to the right, you can see how one dental implant can support a custom-made crown to replace a single missing tooth.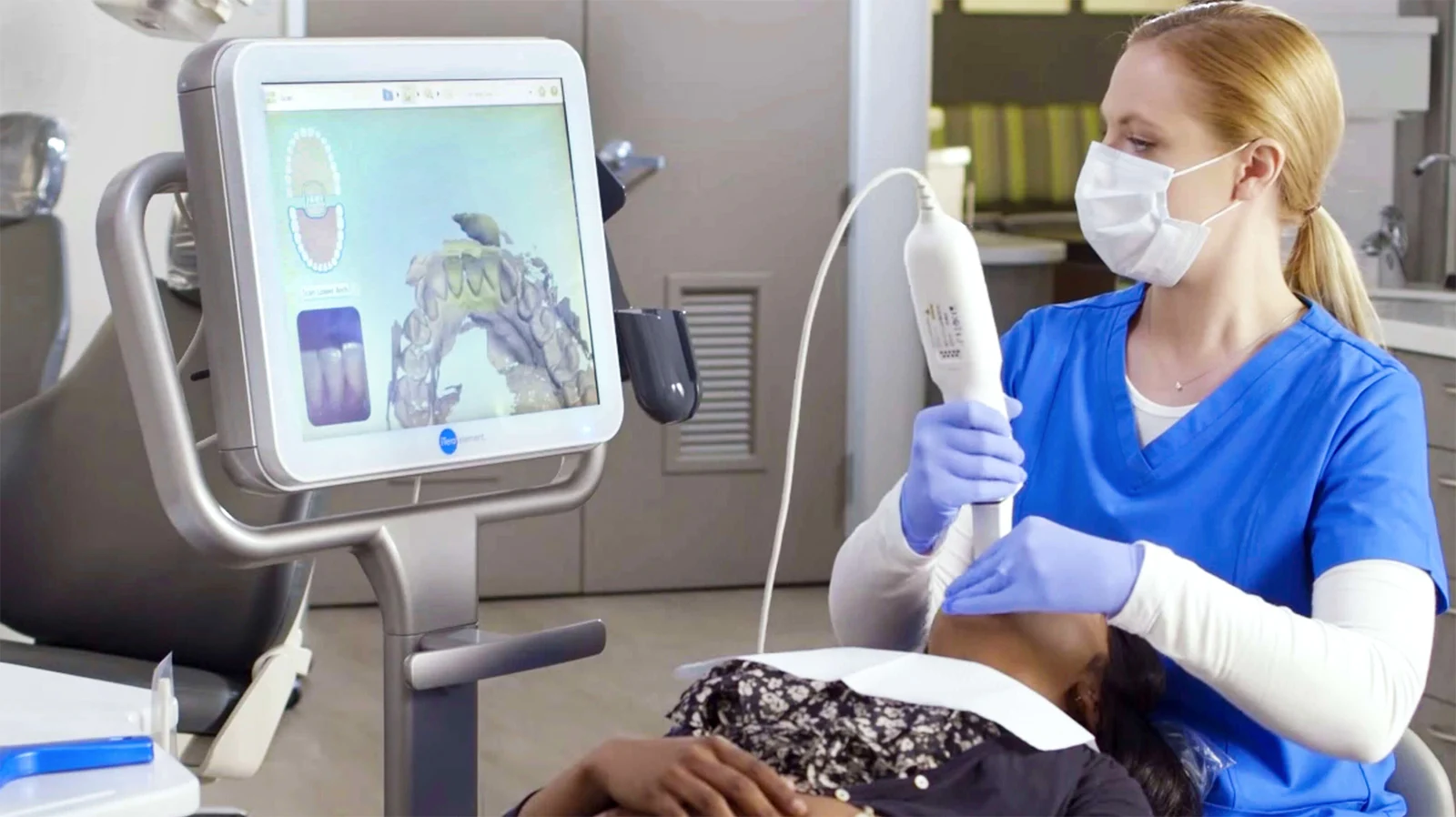 At our implant centers, we are committed to utilizing cutting-edge diagnostic tools and technology to enhance the treatment process for our patients. As a fully digital office, we harness the power of the latest computer technologies to revolutionize the entire dental implant procedure. By embracing this digital approach, we not only save our patients valuable time but also significantly improve implant placement accuracy, leading to higher success rates.
Through advanced tools such as digital X-rays, 3D cone beam scanners, and facial scanners we can thoroughly assess your bone structure and gain comprehensive views of your teeth from multiple angles. This comprehensive imaging enables us to determine the optimal position for your dental implant or implants with precision and accuracy.
A STEP-BY-STEP LOOK AT THE TREATMENT PROCESS
Dental Implant Treatment Timeline
Stubbs Dental Implant Center takes a state-of-the-art approach to implant dentistry, from the initial planning stages to the surgical procedure and aftercare.
Planning Your Treatment

During your initial consultation, you will discuss your medical and dental history with your dentist, and receive a thorough evaluation of your teeth, gums, jaw, and overall health.

Prerequisite Procedures

In some cases, patients may require a preparatory procedure before the implants can be placed. These treatments may include periodontal care for gum disease or bone grafting to rebuild lost tissue in the jaw.

Implant Surgery

During this initial surgery, the implant posts are anchored into the jawbone. The length of the oral surgery is usually about one hour if just one implant is placed and up to three hours when multiple implants are required. Compromised teeth can often be extracted and bone grafts can be placed at the same time that the implants are placed.

Healing Period

You may experience some minor side effects. These side effects are normal after implant placement and should subside within a few days. For traditional dental implant patients, it takes about four to six months for your jawbone to fuse with the implant posts in a process called osseointegration.

Placing Abutments

A second minor procedure is required to place an abutment on each implant. Recovery from this abutment surgery is typically about two weeks, giving the gums sufficient time to heal.

Implant Restoration

Once your recovery is complete, you will return to have your custom-made restoration placed, such as a crown. You will leave our office with full dental functionality and an attractive smile.
QUALITIES THAT SET OUR DENTISTS APART
Why Patients Choose Us for Their Implants
Experience
Stubbs Dental Implant Center is Utah's leading implant provider. Our highly trained and experienced dentists have placed more implants than anyone else in the Beehive State. Each of our award-winning doctors has completed post-graduate and clinical training in implant dentistry.
Affordability
Everyone wants high-quality dental services that fit their budget. Our dentists offer dental financing options to break up the total cost of care into affordable monthly payments. We accept financing through CareCredit® as well as local credit unions such as Mountain America.
Comfort
We offer different sedation dentistry options to help deliver the best possible experiences to our patients, including IV sedation. That means an anesthesiologist may be involved to help you remain calm, relaxed, and free from any pain or discomfort throughout implant treatment.
Take the first step towards achieving your dental goals by filling out our contact form and messaging us today.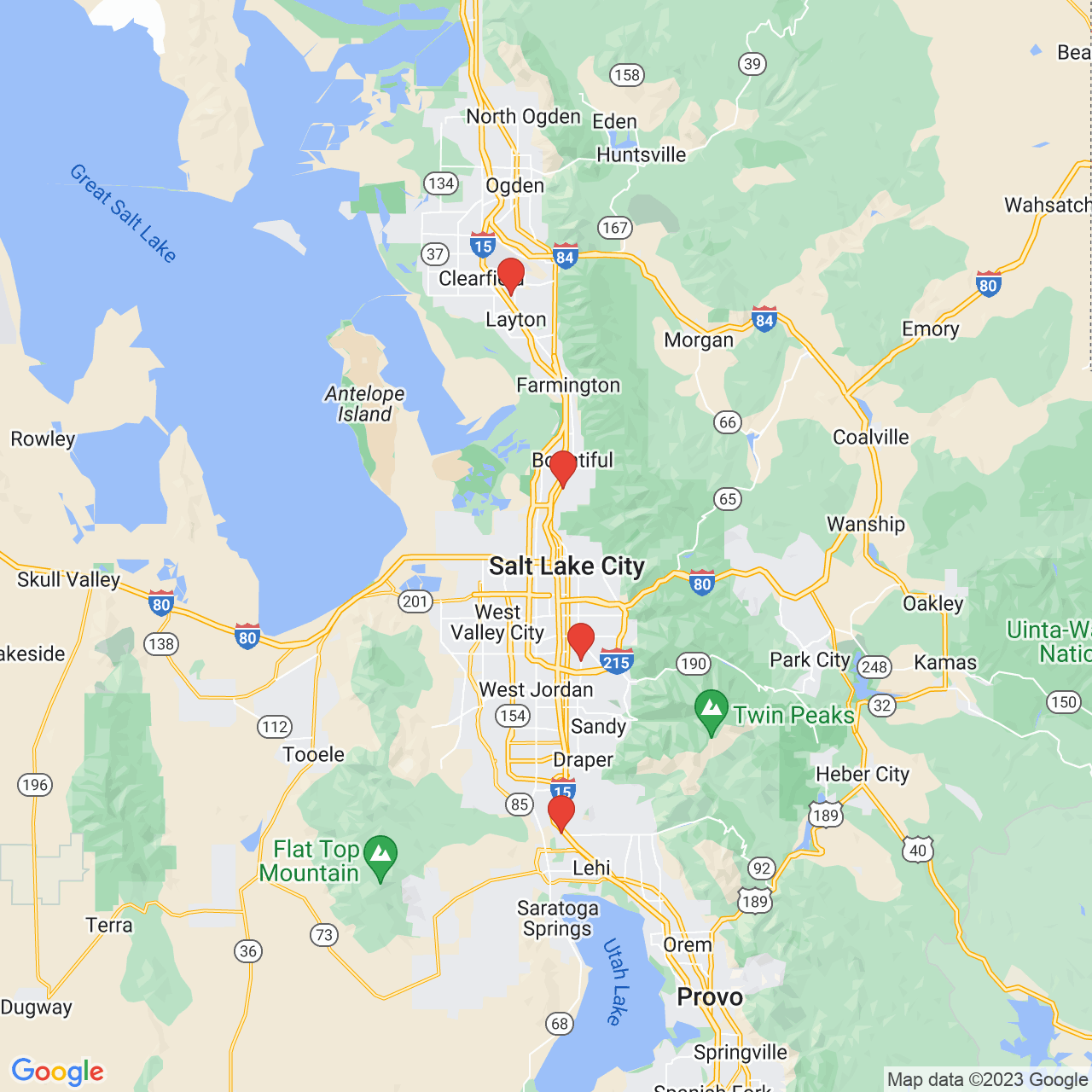 Multiple Locations to Serve You
Layton, Bountiful, Murray, & Lehi
Our dental implant centers are strategically located across the state of Utah in Layton, Bountiful, Murray, and Lehi to ensure that we can cater to the dental needs of patients across the greater Salt Lake region. Our goal is to be there for our patients whenever they need us. By having multiple locations throughout Northern Utah, we can offer greater convenience to patients by providing them with access to our high-quality dental care services within the greater Salt Lake Valley.